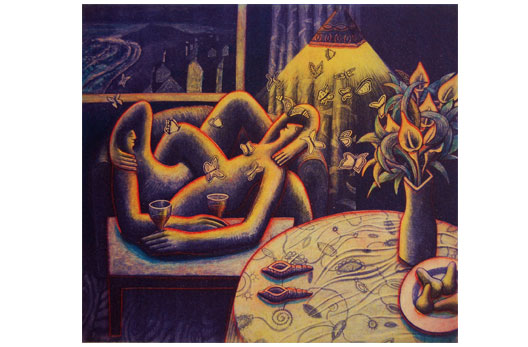 ---
Trevor Price's Bio
Trevor Price (born 1966) specialises in drypoints and etchings that are handmade and hand printed in the artists studio.
He studied at Falmouth and Winchester Schools of Art and at the age of 28 was elected a member of the Royal Society of Painter-Printmakers and is currently the societies Vice President. Trevor exhibits widely throughout Europe, with regular solo shows of both paintings and original prints.
In 2011 at Printfest, which is Northern Britian's only annual art fair dedicated to printmaking, he was the invited 'Printmaker of the Year'. His work is held in various collections including the Ashmolean Museum (Oxford), Guangdong Museum of Art (China), Yale University (USA), The Office of Public Works (Dublin), and The Bank of England.
He has won several national printmaking awards, and on a number of occasions been an invited selector for the annual National Printmaking Exhibition held at the Mall Galleries and Bankside Gallery in London.
The artworks by Trevor usually represent the intimacy between a couple, sometimes romantic, sometimes erotic and often humorous. Artistic influences include Pablo Picasso, Freda Kahlo, Ben Nicholson and Cecil Collins. Location can also be a big influence in the work, and his Cornish roots often feature.